Best Supporting Actor
Albert Brooks (Drive)
To the rest of the general audience,
Brooks
is well known for his comedic roles, particularly his guest voice in several episodes of
The Simpsons
. But in
Drive
, Brooks is a scary gangster who acts more human than any other gangster I'll ever seen. However it's more likely that if you've fucked him over, then he'll poke your eye with a fork. He's foreboding, but has nothing against people. THe fact that he was snubbed by the Oscars is a crime.
While I wasn't won over
Moneyball,
the one thing I was left impressed walking out of the film was
Jonah Hill
playing the architect of sabemetrics Peter Brand. His character places an impact in sport and his partnership with Brad Pitt is at times feel like the odd couple when all he did was just stand there, but because of the jargon-crafted screenplay, it worked.
For me, the major highlight of
Harry Potter and the Deathly Hallows: Part II
isn't the fact that it pulled off a spectacular finale for the mega huge fanbase, but it's also came from
Alan Rickman
, who plays the anti-hero in this series, more or less. He is perhaps the more human Death Eater and there's a scene where it made me tear up when we see the relations between him Lily, Harry's mother.
Tom Hardy
is perhaps the best out of a fine cast of British actors in
Tinker Tailor Soldier Spy.
Like all of them, his character provides the complexity to the film. His character is smooth, but is very melancholic at the same time.
Ben Kingsley
is a major gameplayer in
Hugo
, playing a bitterly miserable toy store owner filled with something he regrets. Although he may look and sound like your average senile grandfather, you'll see by the end of the film, he's the person responsible for the popularity of cinema.
Last Year's winner:
Christian Bale (
The Fighter
)
Runner Ups:
Jonah Hill (
Moneyball)
, Alan Rickman (
Harry Potter and the Deathly Hallows: Part II)
, Tom Hardy (
Tinker Tailor Soldier Spy
), Ben Kingsley (
Hugo
)
Best Supporting Actress
Shailene Woodley (The Descendants)
For someone who didn't or never saw
Secret Life of the American Teenager
, they will be surprised when they see poster child
Shailene Woodley
to give a breakthrough performance as George Clooney's estranged daughter.
Woodley's
character Alexandra revels more pain against her comatose mother, but before that, he had neither sympathy towards her father. Simply because she'd never seen him since she was 7. Woodley plays a realistic daughter with no daddy-daughter issues, but has been the sole keeper of a dark secret within the family.
There was one runnerup in this category, so I would say that I would like to give cred to
Berenice Bejo
of
The Artist
. Bejo gives so much charm into this movie as Peppy Miller, a young fan of George Valentin who ends up being one of the biggest stars in Hollywood after a rather tumble on his parade.
Last Year's winner:
Hailee Steinfeld (
True Grit
)
Runner Ups:
Berniece Bejo (
The Artist
)
Best Actress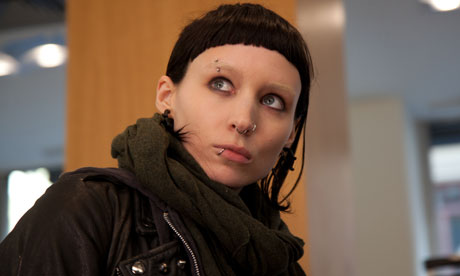 Rooney Mara (The Girl with the Dragon Tattoo [US])
If I was to try to compare the two Lisbeth Salanders, I would prefer Rooney Mara more than Lisbeth Salander. They both pull in excellent performances because of the character's feminine complexites, but Mara pushes her limits from being more alienated and is depicted more like the angel of death. Mara had been known for being in bit roles, particularly playing Mark's cold girlfriend in
The Social Network.
Some of them never worked (especially the
Nightmare on Elm Street
reboot), but thanks to great direction from David Fincher and a tender screenplay, it did.
Charlize Theron
is a bitch... in
Young Adult
. Her character Mavis is the female equivalent of a man child and has a 16 year old kid trapped in a 38 year old's body. As we see more of her antics, she becomes really frustrating to get along with unless you could actually identify with her (yet, why should you).
Kirsten Dunst
is depressed... in
Melancholia,
the latest mood piece from Lars von Trier starring women verbally abused in front of a shaky hand-held camera. Like Theron, she demonstrates the worst girl alive, this time in a wedding reminding me more of Anne Hathaway's character in
Rachel Getting Married
. She won the Best Actress award at Cannes last year and it's a shame she was snubbed by the Academy. And so was
Elizabeth Olsen
in
Martha Marcy May Marlene
and
Tilda Swinton
in
We Need to Talk About Kevin
. In fact all of these actresses play damaged characters and with the exception of Mara, all of these candidates were snubbed by the Academy simply because they play these kind of characters that cannot suit them in any way at all.
Last Year's winner:
Natalie Portman (
Black Swan)
Runner Ups:
Charlize Theron (
Young Adult)
, Kirsten Dunst (
Melancholia)
, Elizabeth Olsen (
Martha Marcy May Marlene),
Tilda Swinton (
We Need to talk About Kevin)
Best Actor
Jean Dujadin (The Artist)
When it comes to a character speaking very little or null in a movie, it's pretty hard to be with them if they exist in real life.
Jean Dujadin
however breaks this rule with a performance that stands out from every emotional angle. He plays George Valentin, a famous happy-go-lucky silent star whose career derails when not only does sound comes along, but a fan named Peppy Miller ends up becoming more of a star than him. His character is funny, sometimes a bit unlikeable and multi faceted but in the end he's more about not wanting to adapt to change.
Michael Fassbender
plays a person in
Shame
who makes Charlie Sheen look like a serial killer. He gives the most heartbreaking and provacative performance of the year playing someone in New York who's a sex addict and when I mean that, I actually mean he's addicted to sex. No joke. Go see this movie if you are depressed or if you want a great performance piece.
Gary Oldman
's Oscar nomination for
Tinker Tailor Soldier Spy
is long overdue and felt like a Lifetime Achievement award, but he delivers an excellent performance as Smiley, the top spy on the lookout for a mole.
The greatest motion capture performance ever delivered in movie history would be
Andy Serkis
playing the main ape in
Rise of the Planet of the Apes.
Caesar is the Che Guervra of his species and we are ready for him to lead a revolution. Many movements by Serkis are in fact phenomenal and since it wasn't the first time Serkis pulls off an amazing role off the body suit (see Gollum and King Kong), I am ready for another prequel for the
Planet of the Apes
franchise
And finally there's
Ryan Gosling
, an actor who made his mark in Hollywood after a series of indie flicks. He pulled off his sexy flair in
Crazy Stupid Love
, then again in
Drive
and again in
The Ides of March
. But
Drive
is what I prefer the most. Gosling is the driver. He doesn't speak. He drive. It's part of his function, but he leaves five minutes driving robbers to be with him since it's part of the deal. But he'll fight back with vengance, either crushing a skull by foot or drowning someone on the beach at night, making him one of the most relatable sociopaths in movie history.
Last Year's winner:
James Franco (
127 Hours)
Runner Ups:
Michael Fassbender (
Shame
)
,
Gary Oldman (
Tinker Tailor Soldier Spy
)
,
Andy Serkis (
Rise of the Planet of the Apes)
, Ryan Gosling (
Drive)
Best Line from a Movie
If I drive for you, you give me a time and a place, I open a five minute window. Anything happens in that five minutes and I'm yours, no matter what. I don't run it down, I don't carry a weapon. I drive - The Driver (Drive)
Last Year's winner:
"You have part of my attention you have the minimal amount" -
Mark Zuckerberg
(The Social Network)
Runner Ups:
- Kids. Go home. Do you homework. Watch Naruto -
Moses (
Attack the Block),
- Right now. I'm like going home, locking my door and playing FIFA -
Biggz (
Attack the Block),
- Sometimes he pleasures her. Not often enough in my opinion -
Lisbeth Salander (
The Girl with the Dragon Tattoo [US])
- I see rhinoceros -
Salvatore Dali (
Midnight in Paris
)
Best Moment
Last Year's winner:
The Zero Gravity Fight Scene (
Inception)
Runner Ups:
- The subway fight scene (
Hanna)
- Caesar leads a revolution (
Rise of the Planet of the Apes)
-
Lisbeth shoves a dildo up a fat man's ass (
The Girl with the Dragon Tattoo)
- A
ny moment starring Uggie the dog (
The Artist)
-
Moses, Moses, Moses (
Attack the Block)
Best Director
Martin Scorsese (Hugo)
Martin Scorsese? Directing a kids movie? Not a chance that's gonna work. That was what I thought when I saw the trailer for Hugo cos ever since he directed the mediocre Shutter Island I felt like he lost a lot of steam, I had some reservations going into this movie. But as far as the director of adult-oriented movies like Taxi Driver, Raging Bull and Goodfellas go, this is not the first time he went into different territory. He directed The Age of Innocence which was a period film. It got nominated. He directed The Aviator, a biopic about a filmmaker who shaped Hollywood. Same as before. However in Hugo, I loved how he handles the 3D as it's not only the best I've ever seen, but makes the technology serves as an allegory to people experiencing new grounds in film. He creates a love letter to the dawn of cinema and he goes into them with magnificent detail. So I was happy to see that Scorsese can actually direct anything, whether it's young or old.
Nicolas Winding Refn executes style and story together in Drive. Together he puts all elements of neo-noir, the action films of the 70s revolving around cars and a Western together to create a homage of these genres and exploit them cautiously as the Driver goes. This made me interested in seeing his previous films such as Bronson, the Pusher trilogy and Vahalla Rising.
French director Michel Hazanavicius turns a movie that's presumed to be a gimmick into a crowd-pleasing delight. Like Hugo, The Artist is a love letter to all silent movies and is somewhat this generation's Singing in the Rain, but it also made the fact that there's barely any dialogue to tell a story of the changes experienced in the film industry and one's cannot seem to adapt.
The greatest filmmaker of his generation, David Fincher directs the second adaptation of Stieg Larsson's The Girl with the Dragon Tattoo. Although it's not up there as his great films such as Fight Club, Se7en and The Social Network, this US take proves to be more superior than the Swedish original. Fincher's obsession with dark visual flair makes this film work and gives it such an addictive taste.
And Joe Wright, famous for his period movies Pride & Prejudice, Atonement, delivers a powerful and intricately stylish action thriller named Hanna. Well-shot and geniunely complex, Wright makes the biggest surprise in the high degree of execution.


Last Year's winner:
Christopher Nolan,
Inception
Runner Ups:
Nicolas Winding Refn (
Drive)
, Michel Hazanavicius (
The Artist),
David Fincher (
The Girl with the Dragon Tattoo [US]),
Joe Wright
(Hanna)
PART III IS COMING SOON.